That's a wrap for another Data Toboggan Winter Edition! Thank you so much to all our attendees, we really hope you enjoyed the day, learned a lot, and above all felt welcome in the community, and had fun.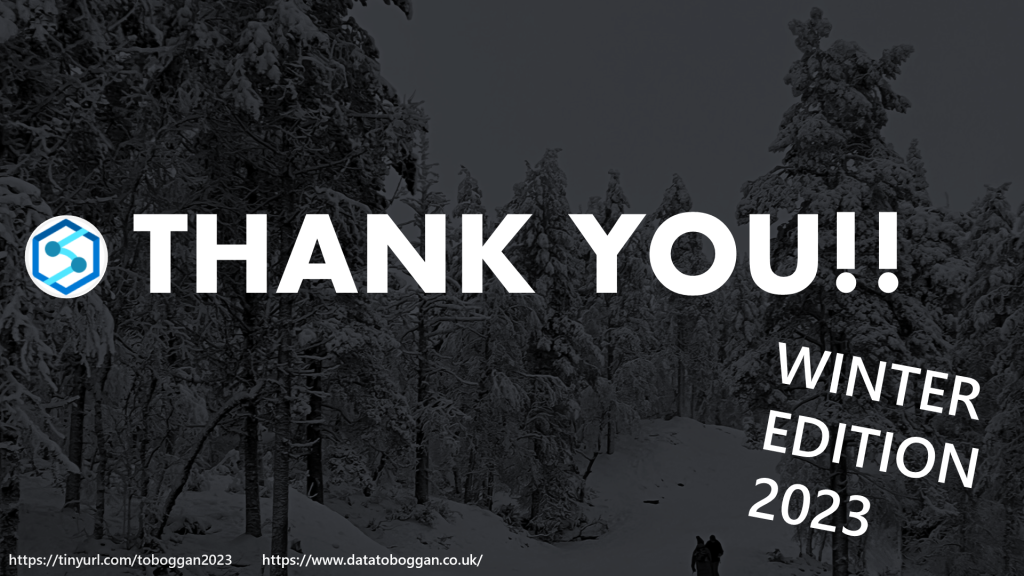 Speakers
A massive thank you to our speakers, who give up their time to provide excellent sessions for us all to learn from. Their willingness to share their knowledge and experience helps shape events like this, and it wouldn't be possible without them
Helpers
We (once again) had the organisational talents of Justin Bird (t) to help moderate rooms and provide links to those that needed to know where to go. We also had Shabnam Watson (t) helping us moderate rooms and organising links to the 2 breakout rooms – a thousand thanks, we couldn't have done it without you.
Session Recording
Our process for providing session recordings our our Data Toboggan YouTube channel is to first seek approval from our speakers, that's the most important step. When we have approval we then edit and upload the videos. This can take us several weeks, so expect the recordings to be available roughly end of March/beginning of April.
We'll see you in the summer! More to come…